I. Conduct Your Prayer Strategy
In session – "What is the role of prayer and the Holy Spirit in the process of multiplying disciples?" We shared the how to conduct the prayer strategy table.
The chart is divided into two parts. The first part is for the names of people for whom we pray. The second, is for what we specifically do to multiply disciples – we mark this either with "X," the words "Yes"/"No," or calendar date it is accomplished.
II. Keep a "Scripture Reading" Notebook
Use a separate notebook for the 50 Scripture readings (Life Habits of a Disciple of Christ).
On every clean page write:
The date when you read the Scripture passage.
The Scripture passage for the day.
The 3-columns table.
Fill out every column of the table as you read each Bible passage listed in the "Life Habits of a Disciples of Christ."
Bring this notebook to your accountability group meeting.
III. Practice Looking for New Contacts
Meet 50 new people.
Meet 50 new people you don't already know. When you meet them, you simply need to have a casual conversation on any topic. You don't have to talk about the Gospel. The purpose of this assignment is to learn how to strike up and hold a conversation with anyone. If it seems appropriate, you can finish your conversation with something like "God bless you" or "God's blessing on you." This may help them begin to see that you are a spiritual interested person, and may help you step into a spiritual conversation with them the next time.
Share the Gospel ("three stories") with 10 people.
Practice sharing the Gospel with 10 people.
Share a meal with 3 people/families.
Plan and spend time over lunch or dinner with at least 3 families, either in your home, or better yet, in their home.
IV. Participate in at Least 3 Accountability Group Meetings
Accountability is crucial in this process. Form a group and meet at least once every 2 weeks.
V. Implement One Plan to Enter into a Community
Develop and implement at least one opportunity to enter a new community together with your family, your friends, or with an accountability group.
VI. Study of the "Person of Peace" in the New Testament from Session 1.7
Read and write down from each passage of Scripture what you find about the characteristics and actions of a "person of peace."
Keep track of your homework in the chart below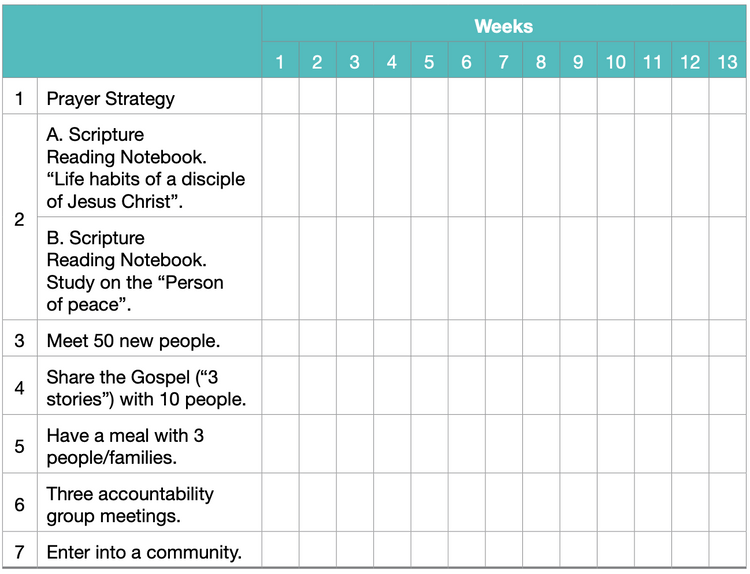 This chart will help you to plan and keep track of your homework progress. Our practice has shown that continuous implementation of homework and regular accountability in groups contribute significantly to disciple making movement success.