The goal of this segment is to explain that life with Christ is an open spiritual lifestyle. You must understand that religiousness pushes people away while the simplicity of Christ attracts.
I. The Biblical Definition of "SHEMA" Lifestyle
In order to form new relationships (and for just living the right way) you have to live an open spiritual life. Such a lifestyle can be called "Shema" lifestyle.

The nation of Israel had their own profession of faith. "Shema" in Hebrew means LISTEN. Israel carried this profession with them for a few thousand years. Their life was a sermon for many surrounding nations. They showed their God to everyone living near them.
When we read in Deuteronomy 6:4 "Listen" (or "Shema" in Hebrew), for many modern people it simply means "to listen and understand the essence of what is being said." But "Shema" in a biblical context means LISTEN, OBEY, KEEP. For a person that reads or hears "Shema," this mean to not only understand what is being said, but to obey and to keep what God has said "with all your heart and with all your soul and with all your might" (Deuteronomy 6:5-6).
Our lives have to be the same way. We proclaim Christ with our everyday life. our behavior at work, how we park our car, how our children speak, how we cope with grief – all of this either attracts people to Christ or does the opposite and pushes them away.
Characteristics of the "shema" lifestyle:
Friendly, pleasant and humble people
Say, "Isn't this a beautiful day God has given us?" This tells people you believe in God, that God gives us good gifts, and that you have a grateful heart.
Our homes are open for people that don't know Christ. We are hospitable and accommodating.
Do something for someone and when they thank you, say "I am blessed by God and want to bless others."
Invite people to visit, talk, fellowship as families, give gifts, Show them Christ with everything that you have.
Don't close yourself off from the people around you, especially from those that live the closest: neighbors, apartment managers, house cleaners, caretakers, and others.
Reflect on these questions:
Why don't people see Christ in my life?
How can I be different from nice and positive people?
When was the last time I was asked, "Why do you live this way?"
II. Three Stories
The "Shema" lifestyle attracts people to disciples of Jesus. You might be asking these questions, "How do I begin to talk about God? How do I turn a casual conversation into a spiritual conversation?" This can be done in several ways. One way is the "Three Stories".
Your Story
My Story
God's Story
YOUR STORY: When we ask a person about his/her life, we can hear THEIR story, their situation, losses or victories. Listen attentively, and simultaneously listen to the Holy Spirit. It's possible that the Holy Spirit might cause you to notice something specific for you to ask them more about. Once you have listened attentively to their story, direct the conversation toward your own story.
MY STORY: You could share a situation when God intervened in a problem or success in your life. Another kind of "My Story" might be your testimony. A testimony consists of three parts: life before Christ, how I came to Christ, and how I now live with Christ. This is not yet the Gospel, but only preparing the listener for the Gospel, which is "God's story."
Assignment: On a single sheet of paper, write out your personal story.
GOD'S STORY: There are different ways to share the Gospel. In the section you be given two Gospel tools. Choose one that you believe will work best for you and practice it as much as possible.

When God leads you to a person in order to share the Gospel, a good first step is to ask the person if you can pray for them. If the person says, "YES," then pray for them immediately. If they are okay with you praying for them then probably they will also be open to hearing the Gospel from you.
After you pray for them, ask them if they feel close or far away from God. Listen closely to what they share with you. If they share that they feel close to God then encourage them to go and make disciples. If they feel far away from God then ask them if it is okay with them for you to share a picture that changed your life. If they say yes, then share the Three Circles with them.
Step 1: Draw the "Brokenness" circle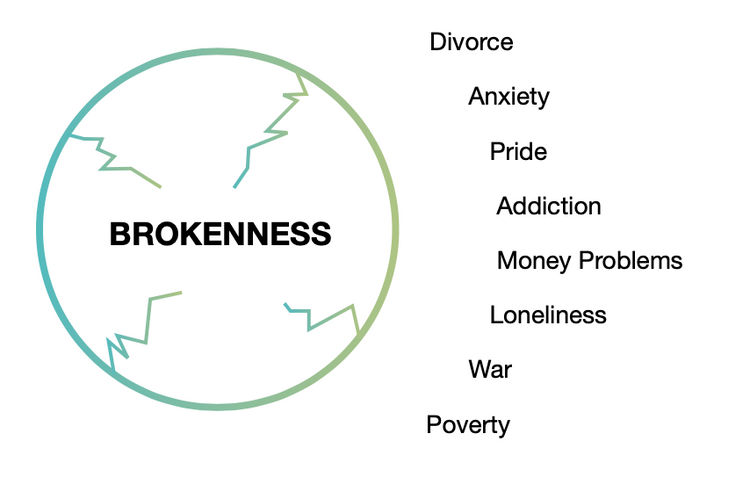 Share: The world is a broken place. Everywhere we look we see pain, sadness, anger, and etc. All we need to do is turn on the TV and we can see plenty of terrible news. We were born into brokenness. We are all imperfect and broken people. What kind of brokenness do you see in our world? What kind of brokenness do you see in your own personal life?
Step 2: Draw the "God's Perfect Plan" circle"

Share: But God's original plan was very much different. He created the world and wanted us to experience a perfect life in His Kingdom. His Kingdom is full of love, joy, and peace. He did not want us to live in brokenness. What does a perfect word look like for you?
Step 3: Draw the "Sin" line connecting "God's Perfect Plan" with "Brokenness."

Share: The reason why we live in the broken world is because of sin. Sin basically means that we turn away from God and live our lives according to our own will and desires. Sin caused our world to live in brokenness. The Bible is very clear that everybody has sinned, there is not a single person in this world who has not sinned.
Step 4: Draw the "Jesus" circle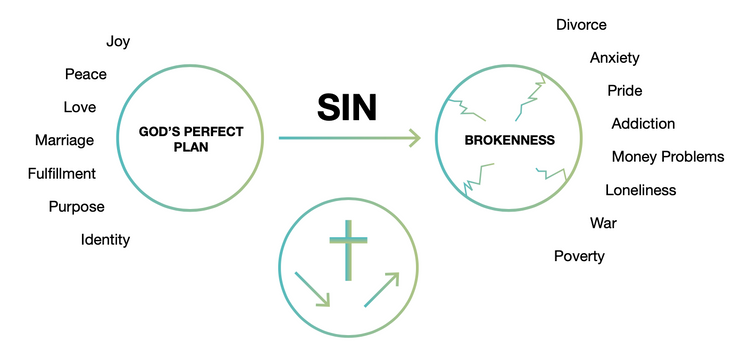 Share: It broke God's heart to see us live our lives in sin, pain, and brokenness. He knew that we cannot get out of brokenness on our own and that we need to be saved. So, He sent His one and only Son, Jesus, to us. Jesus lived a perfect life without any sin. He had to die for SIN and BROKENNESS. He died for all of us, but He is no longer dead. On the third day, he defeated the power of death and sin and was resurrected. he then returned back to His Father. Because of Jesus' death and resurrection there is now a way back to God, a way back to God's perfect design.
Step 5: Draw a line connecting "Brokenness" and "Jesus"; write "turn" and "believe"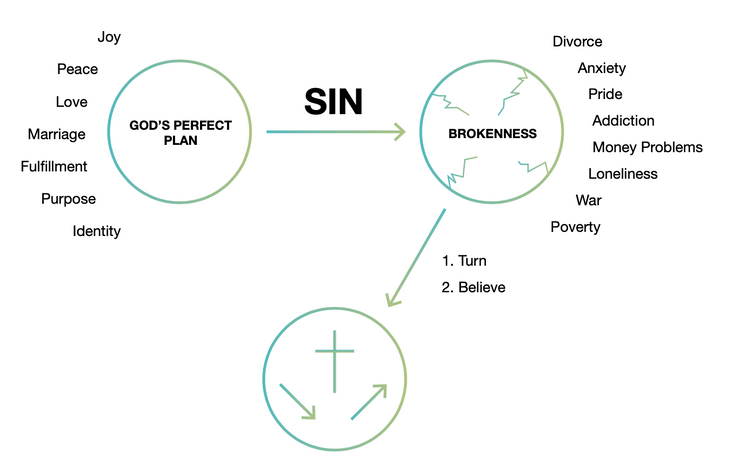 Share: If we want to experience the life that God intended for us, then we need to believe what Jesus has done for us. We need to believe in His death and resurrection. We also need to turn away from sin and follow God's will for our lives.
Step 6: Draw a line connecting "Jesus" and "God's Perfect Design"; write "Grow" and "Go"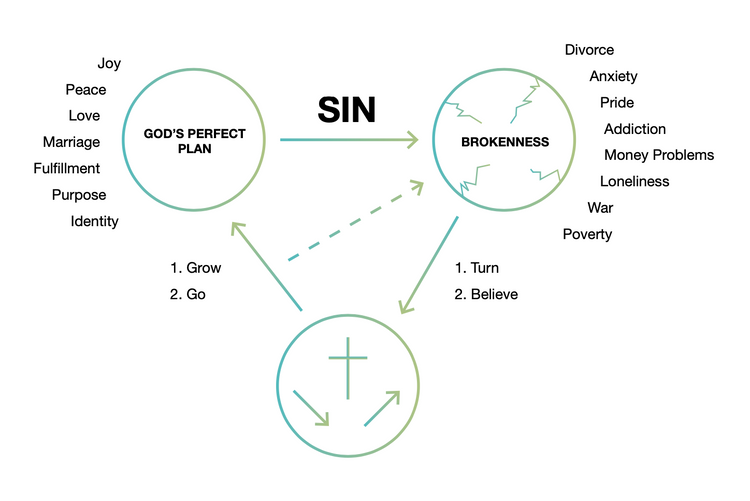 Share: When we begin a new life with God then we will grow in our relationship with Him. Through our relationship with Him we can begin to experience His perfect design for us. He is also sending us back to the broken world so that we can GO and bring hope to those who are hopeless.
Step 7: Ask them the following questions:
If you were honest, which circle would you be in now?
Which circle would you like to be in now?
If they answer that they want to be in "God's perfect plan," ask, "what is stopping you?"
Step 8: If a person responds positively to the Gospel, get their contact information and schedule when you will meet with them to read Scripture together

Step 1: On a piece of paper, write the word "God"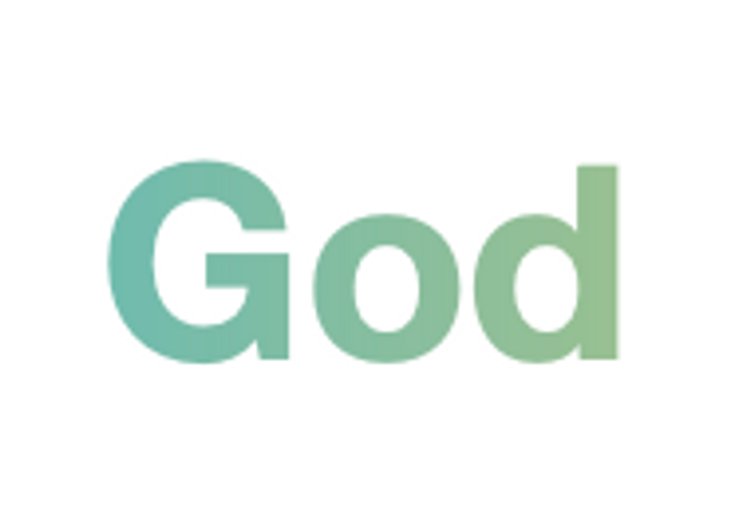 Share: God has created everything in this world. He made this world a beautiful place.
Step 2: Draw a stick figure person who represents us

Share: God even created us, humans. He created us so that we can have a relationship with Him and have life that He has purposed for us.
Step 3: Draw a gap between the "stick figure" and "God." In the gap write the word, "Sin"
Share: Isaiah 59:2, states, "But your iniquities have separated you from God; your sins have hidden his face from you, so that he will not hear." Unfortunately, due to sin in our life we are separated from God. Sin means that we have turned away from God and live our lives according to our will and desires.
Step 4: On the side of the "stick figure" write the following statements and Bible passages:
All have sinned – Romans 3:23
Wages of sin is death – Romans 6:23
Judgement – Hebrews 9:27

Share: The Bible is very clear that we have all sinned. There is not a single person who is perfect in this world. Because we have all sinned we all deserve death. Sin does not give life. the Bible is clear that after death people will be judged.
Step 4: On the side of "God" write the following Bible passage and statements:
John 5:24
No Judgment
No death
Life

Share: God had a completely different plan for our lives. He did not want us to be separated from Him. His desire was for us to experience a relationship with Him, and through that relationship, to experience life to the fullest.
Step 5: Write down a few things that people are to do out of their own strength to have a relationship with God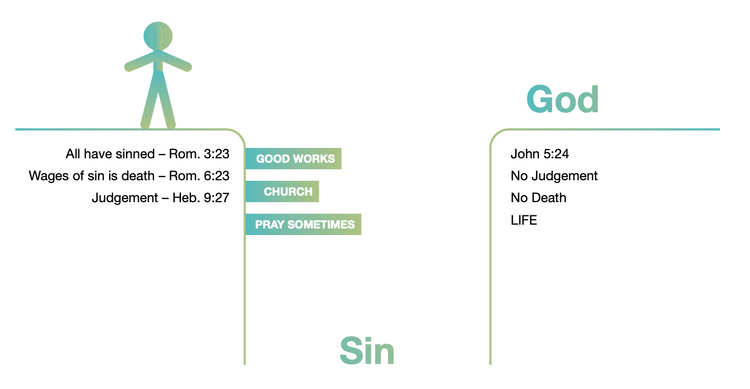 Share: Sadly, we try different ways to bring the gap between us and God. Some people think that doing good deed and living a kind, compassionate life will bring them close to God. Others believe that as long as they go to church, then they will have a relationship with God.
Step 6: Share the following:
None of our efforts will get us closer to God. Ephesians 2:8-9 states clearly, "For it is by grace you have been saved, through faith – and this is not from yourselves, it is the gift of God – not by works, so that no one can boast."
Step 7: Draw a cross that connects the gap between "stick figure" and "God"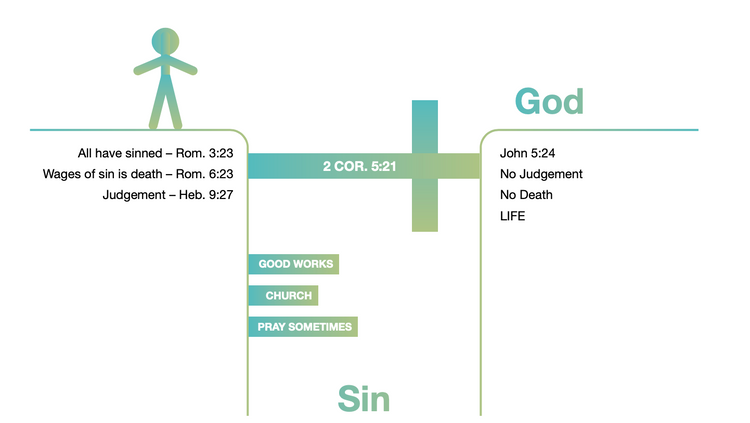 Share: 2 Corinthians 5:21 says, "God made him who had no sin to be sin for us, so that in him we might become the righteousness of God." Christ took all of our sin and died on the cross for us. The story does not end with death. On the third day, Christ rose from the dead and defeated our sin, as well as the power of death and evil.
Step 8: Draw two lines and label one "hears" and the other one "believes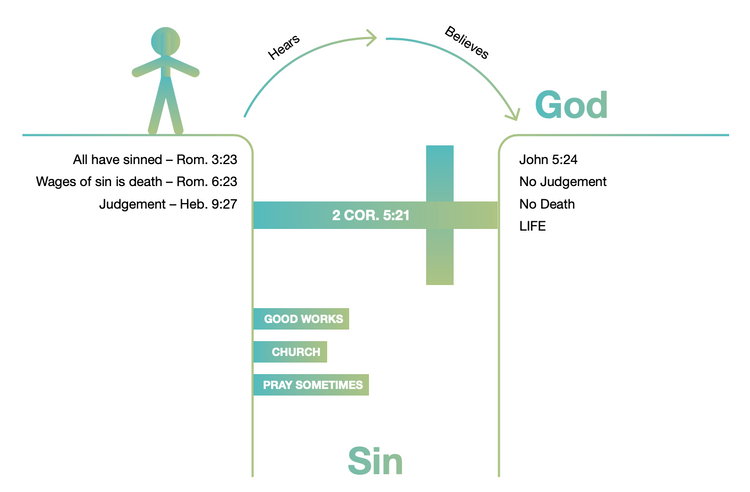 Share: John 5:24 clearly tells us that the only way for us to bridge the gap between us is through hearing the God's good news and believing God. We need to believe that Christ has died for us and He has defeated the grave. That is the only thing that is required. Our works will not save us. Christ has already finished everything by dying on the cross and rising from the dead.
Step 9: Ask if they are ready to believe the Good News of Jesus Christ